Love and Life in Marriage Conference – Celebrating the Church's vision of sexuality and marriage on the 50th Anniversary of Pope Paul VI's encyclical Humanae Vitae.
Hosted by: Nazareth Family Institute (www.nazarethfamilyinstitute.net)
Venue: Carlton Hotel Dublin Airport (Click here to see location of hotel)
Date: Saturday August 4th, 2pm – 6pm
No prior registration required. No set fee. Donations will be accepted.
Speakers:
Dr William Newton, PhD

Dr Newton is Associate Professor of Theology, Franciscan University of Steubenville, Ohio, USA. He completed his PhD in theology through the John Paul II Institute for Studies of Marriage and Family (CUA, Washington DC). Dr Newton is author of a book on Catholic Social Teaching bearing the title "Civilization of Love: The Catholic Vision for Human Society" (Gracewing Publishing, 2011). He is also a co-founder of the Aquinas Institute of Ireland.
Dr Marie Meaney, PhD

Currently living in Paris, Dr. Meaney is Visiting Lecturer at the International Theological Institute, Vienna, Austria. She received her doctorate and an M. Phil. in Modern Languages from the University of Oxford. She also obtained an M. Phil. in philosophy from the International Academy of Philosophy in Liechtenstein and a D.E.U.G. from the Sorbonne in Paris. She is the author of the booklet "Embracing the Cross of Infertility" which has also come out in Spanish, Hungarian, Croatian and German.
Dr Maria Fedoryka, PhD

Dr Fedoryka is Associate Professor and Chair, Department of Philosophy, Ave Maria University, Florida, USA. She has recently contributed a chapter to the following book: Why Humanae Vitae is Still Right (Ignatius Press, 2018). She has also contributed a lecture – by invitation of Archbishop Charles Chaput – at the April 2018 Symposium on Humanae Vitae "Healing the Wounds in Human Sexuality and Marriage by Embracing God's Vision for Love and Marriage" (Washington DC).
Bishop Kevin Doran (Bishop of Elphin)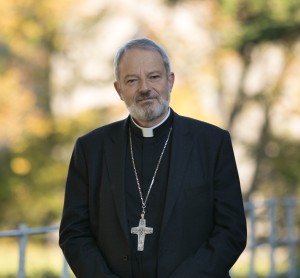 We are delighted to announce that Bishop Kevin Doran (Diocese of Elphin) will formally open the proceedings of the conference by introducing the topic and the guest speakers. As a member of the Catholic Bishops' Conference, Bishop Doran currently chairs the Committee for Bioethics and is also a Member of the Council for the Family. Bishop Doran has written the following books:
More Joy in Heaven: Confession, The Sacrament of Reconciliation. Dublin: Veritas, 1988.
What is a Person? The Concept and the Implications for Ethics. New York: Edwin Mellen Press, 1989.
Solidarity: A Synthesis of Personalism and Communalism in the thought of Karol Wojtyla, Pope John Paul II. New York, Peter Lang, 1996.
(Info and Photo courtesy of Diocese of Elphin website. See complete biographical note for the Bishop here)
—–
Text for Advertising purposes:
Love and Life in Marriage, A conference celebrating the Church's vision for sexuality and marriage on the 50th Anniversary of Humanae Vitae. Venue: Carlton Hotel Dublin Airport, Sat August 4th, 2pm – 6pm. No prior registration required. No set entry fee – donation only. Intro from: Bishop Kevin Doran (Diocese of Elphin). Speakers: Dr William Newton, PhD (Franciscan University, Steubenville, Ohio), Dr Marie Meaney, PhD (I.T.I, Vienna), Dr Maria Fedoryka, PhD (Ave Maria University, Florida). http://www.loveandlife2018.com
—–
Proposed Schedule:
14:00 Peter Perrem (Nazareth Family Institute) – Formal Welcome
14:05 Bishop Kevin Doran – Introduction to Conference and Speakers
14:20 Dr William Newton – "Greater clarity with the passing of time – reading Humanae Vitae fifty years on"
15:00 Very Short Personal Testimonies regarding natural family planning
15:20 Break (Tea, Coffee, Biscuits)
15:50 Dr Marie Meaney – "Contraception to Infertility – Reproductive Technologies Today"
16:30 Dr Maria Fedoryka – "The Centrality of Love to the Teaching of Humanae Vitae"
17:10 Q&A (all speakers)
17:40 Spare (Allow for Overshoot)
18:00 Finish
Bishop Kevin Doran:

Dr William Newton:

Dr Marie Meaney:

Dr Maria Fedoryka:

Mrs Marie Mahony (Short Testimony)

Mr Mark Hickey (Short Testimony)